Brother Brother May 2 & 3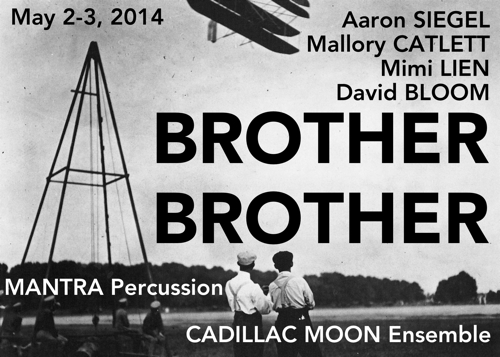 May 2-3, 2014 | 8pm
Tickets: $20
Purchase Tickets
Experiments in Opera presents a full production of EiO co-founder Aaron Siegel's evening length opera, Brother Brother directed by Mallory Catlett, with designs by Mimi Lien and performances by Mantra Percussion and Cadillac Moon Ensemble under the musical direction of David Bloom.
This 90-minute opera, which has been in development with Experiments in Opera for the last two seasons, explores the relationship between Orville and Wilbur Wright following their first flights in 1903.  This fascinating story of family drama, business struggles and legal fights is layered over a secondary story detailing the challenges of contemporary brotherhood and the complexities of growing up with an unusual idea of brotherly intimacy.  Aaron Siegel drew on his own experiences as a twin while writing the libretto that provides both sets of brothers a range of intimate language to express their wonder in the world and in each other.  The music for Brother Brother draws on Siegel's wide range of experiences with percussive minimalism, early music, American shape-note singing, ambient electronic music and improvised jazz.  Brother Brother is a timely look at the personal side of innovation and entrepreneurial optimism in America.
Cast :
Michele Kennedy, Soprano
Patrick Fennig, Countertenor
Marc Day, Tenor
Julian A. Rozzell, Jr., Red
Danyon Davis, Blue
Marie Ortinau, Soprano Chorister
Jamie Ehrenfeld, Alto Chorister
Billy Lowrimore, Tenor Chorister
Adrian Rosas, Bass Chorister
Mantra Percussion
Cadillac Moon Ensemble
David Bloom, Musical Director
Production Team:
Mallory Catlett, Director
Mimi Lien, Stage Designer
Jeanette Yew, Lighting Designer
Caley Monahon-Ward, Sound Designer
Andreea Mincic, Costume Designer
Esti Bernstein, Stage Manager
Prior to each Brother Brother performance, Experiments in Opera will share two 'Opera Trailers,'  90-second videos that offer a sneak peek at new opera ideas and characters.  Featured artists include Jason Cady,Dave Ruder, Matthew Welch and the partnership of Daniel Kushner,Noelle Evans and Jascha Narveson. Additionally, in partnership with CultureBot.org, composers and collaborators featured on Brother Brother will take part in a free public discussion – Opera in Dialogue #3on Saturday May 3, 2014, 5:00 PM, at the Playhouse, Abrons Arts Center – exploring the ideas and motivations behind this premiere production.
http://aaronsiegel.net/wp-content/uploads/Aaron-Siegel-Logo-300x138.jpg
0
0
Aaron Siegel
http://aaronsiegel.net/wp-content/uploads/Aaron-Siegel-Logo-300x138.jpg
Aaron Siegel
2014-04-14 09:12:32
2014-04-14 09:12:32
Brother Brother May 2 & 3