This past week, my wife and I watched Jonathan Demme's "Rachel Getting Married" at our family vacation rental in North Carolina. I realize this film has been out for over a year, but due to our young son, we are quite behind on our movie watching. I thought the movie was great. The script was tight, the direction subtle yet demanding, and the acting was superb (Bill Irwin and Anne Hathaway especially). What really got me about the movie was how much the plot and the characters were defined by the music in the film, which was only performed by the musicians on screen in the film.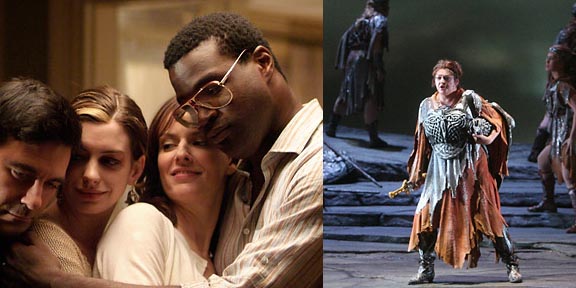 The culmination of this technique was a scene in which Sidney, the groom in the film (TV on the Radio's Tunde Adebimpe), sings to his bride the first verse and chorus to Neil Young's stirring "Unknown Legend." (Here is a link to the scene). The first reading of this scene would have Sidney singing lovingly to his bride as they share their affection for each other with their guests. Throughout the scene, though, as the camera pans to the faces of the family members in the room, namely Kym (Anne Hathaway), it became clear to me that rather than a rousing anthem of the groom's love for his bride, the song had another deeply sad meaning. The lyrics of "Unknown Legend," paint a picture of a woman "somewhere on a desert highway" riding a Harley Davidson. Sound like a bride to you? How about a love song? Not exactly. Which left me with a profoundly conflicted sense: On one hand, what a touching song, and on the other, Rachel is alone, and her family cannot help her.
This kind of conflict, as expressed by the music in this scene, is not only rare for a hollywood film, it's also kind of operatic. This scene plays like an aria from Wagner's "The Ring," I am thinking particularly of the stunning aria at the end of "Valkryie" when Wotan puts his daughter to sleep for eternity in response to her misbehavior. The crystalline shimmer of the orchestra as Brunhilde falls asleep belies the deep sadness of the father who is left alone without his favorite daughter.
http://aaronsiegel.net/wp-content/uploads/Aaron-Siegel-Logo-300x138.jpg
0
0
Aaron Siegel
http://aaronsiegel.net/wp-content/uploads/Aaron-Siegel-Logo-300x138.jpg
Aaron Siegel
2009-08-30 18:58:03
2009-08-30 19:30:07
Burying the Musical Lead